No results were found for the filter!
Icom ID-4100E
Beschreibung Terminal-Modus und Access-Point-Modus vergrößern die Reichweite und erhöhen das Funkvergnügen Der Terminal- und der Access-Point-Modus* ermöglichen D-STAR-Verbindungen über das Internet. Unabhängig vom eigenen Standort und...
Yaesu FTM-300DE
Normal 0 21 false false false DE X-NONE X-NONE Yaesu FTM-300DE VHF/UHF Dualband Mobile with Bluetooth Radio Features: 50W Stable High-Power with Heavy Duty Heat Sink including FACC Dual Band Opearation (V+V, U+U, V+U, U+V) and...
AnyTone D-578UVPRO mit GPS + Bluetooth
DMR / FM VHF / UHF mobile transceiver with GPS and Bluetooth Working Mode: Full duplex on UU, UV, VV,VU. Dual RX(Analog+DMR or Analog+Analog) • True-2-slot: Provide 2-slot communication which allows for 2 talk paths on 1 frequency;ETSI...
Yaesu FTM-400XDE
Mobilfunkgerät 2m/70cm 50W FM/C4FM Digital - neue Version- incl. MH48A6J DTMF Mikrofon
Kenwood TS-590SG
Normal 0 21 false false false DE X-NONE X-NONE Key Features · TS-590SG Upgraded features, replaces the original TS-590S model · Enhanced RX performance with superb 3rd-order Dynamic Range · Extended Digital IF Filter selections · New...
Icom IC-2730E
Mobilfunkgerät FM, 2m/70cm, Empfänger von 118 - 174 und 375 - 550 MHz, 50 Watt VHF/UHFLieferumfang: IC-2730E BedienteilIC-2730E HauptgerätHandmikrofon mit Fernsteuerung HM-207Kabel für abgesetztes Bedienteil 3,5 m...
Hytera MD785GH
Hytera MD785GHMobilfunkgerät UHF 45W, DMR, FM, GPS-Empfäng
Yaesu FT-4XE
Kompaktes Dualband-Handfunkgerät in robuster Bauform. Es stehen 5 Watt Sendeleistung, umschaltbar auf 2,5 W u. 0,5 W). Gute Verständlichkeit auch in lauter Umgebung durch Lautsprecher mit 1 W NF. Im Lieferumfang enthalten ist eine Li-Ion...
Icom IC-705
IC-705 HF/VHF/UHF Mobile Transceiver The new portable HF/VHF/UHF IC-705 has many great features such as SDR platform, internal battery, GPS, Bluetooth and D-STAR, all in a compact and lightweight body. The Icom IC-705 uses the same 4.3...
Icom IC-7610
Now in Promotion! Icom IC-7610 + SM-50 only 3.149,00 € IC-7610 SDR HF/50MHz Transceiver Whether it is poor band conditions, or battling to pick out a call in a large pile-up, faint signals have always been a challenge for DXers and...
Yaesu FT-3DE
Kompaktes C4FM-Digital-Handsprechfunkgerät mit hochauflösendem TFT-Vollfarbdisplay, Touch-Panel und simultan Dualband-Empfang- Kompaktes Design und zuverlässiger 5W HF-Ausgangsleistung (wählbar 5W/ 2,5W/ 1W/ 0,3W)- C4FM Digitaler...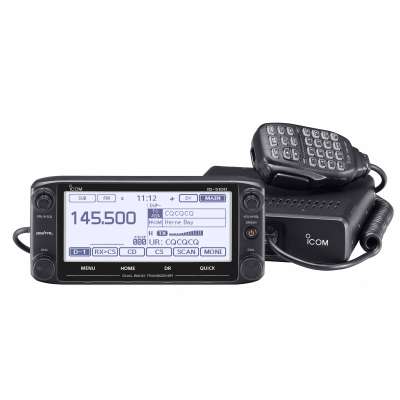 Icom ID-5100E
Mobilfunkgerät D-Star/FM, 2m/70cm, Empfänger von 118 - 999,99 MHz, 50 Watt VHF/UHF