No results were found for the filter!
Yaesu FT-3DE
Kompaktes C4FM-Digital-Handsprechfunkgerät mit hochauflösendem TFT-Vollfarbdisplay, Touch-Panel und simultan Dualband-Empfang- Kompaktes Design und zuverlässiger 5W HF-Ausgangsleistung (wählbar 5W/ 2,5W/ 1W/ 0,3W)- C4FM Digitaler...
Yaesu FT-4XE
Kompaktes Dualband-Handfunkgerät in robuster Bauform. Es stehen 5 Watt Sendeleistung, umschaltbar auf 2,5 W u. 0,5 W). Gute Verständlichkeit auch in lauter Umgebung durch Lautsprecher mit 1 W NF. Im Lieferumfang enthalten ist eine Li-Ion...
Yaesu FT-70DE
Yaesu FT-70DE C4FM/FM 144-430MHz Dual Band Handheld Radio Features: - System Fusion Compatible - FM Friendly Digital Operation with AMS (Automatic Mode Select) - Sophisticated C4FM Digital Functions : Digital Group Monitor (GM) / DG-ID,...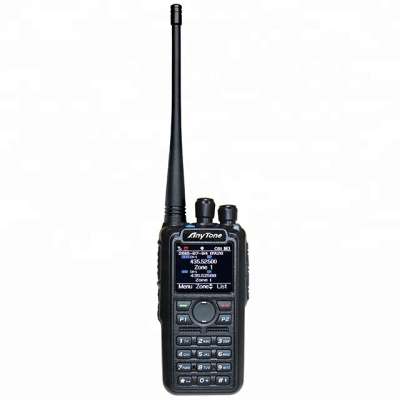 AnyTone D-878UV m. GPS und Bluetooth
Dualband DMR / FM Handfunkgerät mit GPS & BluetoothDas Anytone D-878UV - der Dualbander (V/U, V/V, U/U) für DMR und FM, bietet Leistungsvielfalt!Neben echtem VFO Betrieb (Frequenz und Sendeparameter sind einstellbar) kann auf 4.000...
Hytera PD785
Hytera PD785Handfunksprechgerät UHF, FM, DMR, ohne GPS, 1W/4W

Kenwood TH-D74 E
Handsprechfunkgerät FM, 2m/70cm, mit GPS-Unit, Li-Ion 1800mAh, 5 W

Hytera PD505 VHF
Hytera PD505 VHFHandfunksprechgerät VHF, FM und DMR 1 W / 5 W
Kenwood TH-K20E
Handfunksprechgerät FM, 2m, mit Tastatur, Li-ion 1130 mAh, 5 W