No results were found for the filter!
MFJ-906
Der MFJ-906 6-Meter-Antennentuner für das Magic Band sorgt für ein niedriges SWR bei praktisch jeder koaxgespeisten Antenne: mobile Peitschen, Dipole, Verticals, Vees, Zufallsdrähte, Beams. Mit einem niedrigen SWR ist Ihre Anlage...
mAT-K100
Der mAT-K100 ermöglicht die automatische Antennenabstimmung über das gesamte HF-Spektrum plus 6 Meter bei einer Leistung von bis zu 120 Watt. Er stimmt Dipole, Vertikale, Yagis oder praktisch jede koaxgespeiste Antenne ab. Er passt sich...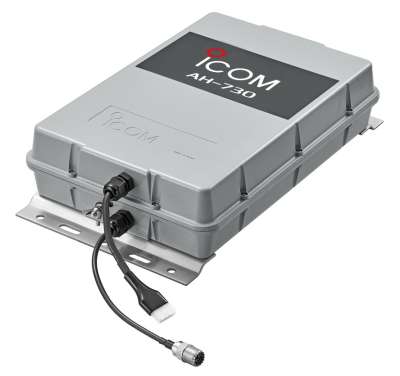 ICOM AH-730
Der neue AH-730 Antennentuner bietet schnelle Bandanpassung vom 1,8- bis 50-MHz-Band. Merkmale Großer Frequenzbereich Mit einem 7 m oder längeren Drahtelement ist eine gesamte Bandabstimmung vom 1,8-MHz-Band (160 m) bis zum 50-MHz-Band...
mAT-Y200
mAT-Y200 Für die YAESU Transceiver FT-891, FT-991A, FTDX-10 und FTDX-101D wurde mit dem MAT-Y200 ein Tuner entwickelt, der optimal auf die Transceiver abgestimmt ist. Er unterstützt bis zu 200 Watt Sendeleistung in SSB und CW, sowie...
mAT1500
Der mAT1500 ist ein automatischer Antennentuner, speziell zur Benutzung mit einem Verstärker entwickelt bis 1,5 kW (PEP). Abgedeckt wird der Frequenzbereich von 3.5 - 54 MHz und er besitzt 16.000 Speicher für die LC Konfiguaration. Mit...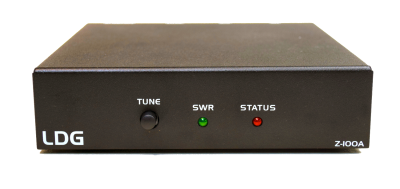 LDG Z-100 A
Antenna-Tuner 1,8 - 54 MHz, 0,1-125 W SSB/CW, 30 W digital The Z-100A features LDG's famous 10:1 SWR tuning range that matches Dipoles, Verticals, End fed wires, G5RVs or even an Off center fed Windham. Easy integration means plug and...
ICOM AH-705
Kompakter Antennentuner für den IC-705 Abstimmbarer Frequenzbereich von 1,8 MHz bis 50 MHz Länge der Antenne ≥ 30 m: 1,8 MHz bis 54 MHz, Länge der Antenne ≥ 7 m: 3,5 MHz bis 54 MHz (* Je nach Betriebsbedingungen oder Umgebung kann der...
LDG Z-817
LDG Z-817Antennentuner QRP, 1,8-30 MHz, 0,1-20 W, Coax
mAT-125
m-AT125E portabler Automatik-Tuner mit Li-Ion Akku Der mAT-125E ist ein vielseitiger, leichter und kompakter Tuner mit integriertem 2.400 mAh Akku, der mit Funkgeräten aller Hersteller kompatibel ist, sofern deren Sendeleistung zum...
mAT-10
mAT-10 - Kompakter QRP Portabeltuner mit Li-Ion Akkus Der mAT 10 ist ein äußerst kompakter Tuner mit einer internen Stromversorgung, die durch zwei eingebaute Li-Ion Akkus vom Typ 10440 sichergestellt wird. Somit ist der Tuner bestens...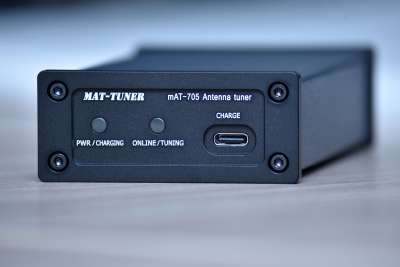 mAT-705 Plus
Jetzt die neue Version mit eingebautem Akku und USB Ladebuchse und Kabel. m-AT 705 Plus automatischer Portabeltuner für IC-705 1,8 - 54 MHz Der kompakte Tuner mAT-705 kommt in einem robusten Aluminium-Gehäuse daher und wurde speziell für...
mAT-40
mAT-40 automatischer Outdoor-Tuner 1,8 bis 54 MHz Mit dem Outdoor-Tuner mAT-40, stimmen Sie nahezu jede Antenne schnell und automatisch ab. Endgespeiste Drahtantennen werden über eine Schraubklemme an der Oberseite des Tunergehäuses...