No results were found for the filter!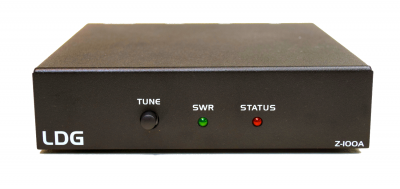 LDG Z-100 A
Antenna-Tuner 1,8 - 54 MHz, 0,1-125 W SSB/CW, 30 W digital The Z-100A features LDG's famous 10:1 SWR tuning range that matches Dipoles, Verticals, End fed wires, G5RVs or even an Off center fed Windham. Easy integration means plug and...
ICOM AH-705
Kompakter Antennentuner für den IC-705 Abstimmbarer Frequenzbereich von 1,8 MHz bis 50 MHz Länge der Antenne ≥ 30 m: 1,8 MHz bis 54 MHz, Länge der Antenne ≥ 7 m: 3,5 MHz bis 54 MHz (* Je nach Betriebsbedingungen oder Umgebung kann der...
LDG Z-817
LDG Z-817Antennentuner QRP, 1,8-30 MHz, 0,1-20 W, Coax
mAT-30
mAT-30 Automatik-Tuner für div. YAESU Transceiver Der mAT-30 ist ein automatischer Tuner zur Verwendung mit modernen YAESU-Transceivern, die auch die Tuner FC-30, FC-40 oder FC-50 unterstützen, z. B. FT-100, FT-857D, FT-897D, FT-450D,...
mAT-705 Plus
Jetzt die neue Version mit eingebautem Akku und USB Ladebuchse und Kabel. m-AT 705 Plus automatischer Portabeltuner für IC-705 1,8 - 54 MHz Der kompakte Tuner mAT-705 kommt in einem robusten Aluminium-Gehäuse daher und wurde speziell für...
mAT-40
mAT-40 automatischer Outdoor-Tuner 1,8 bis 54 MHz Mit dem Outdoor-Tuner mAT-40, stimmen Sie nahezu jede Antenne schnell und automatisch ab. Endgespeiste Drahtantennen werden über eine Schraubklemme an der Oberseite des Tunergehäuses...
mAT-125
m-AT125E portabler Automatik-Tuner mit Li-Ion Akku Der mAT-125E ist ein vielseitiger, leichter und kompakter Tuner mit integriertem 2.400 mAh Akku, der mit Funkgeräten aller Hersteller kompatibel ist, sofern deren Sendeleistung zum...
mAT-10
mAT-10 - Kompakter QRP Portabeltuner mit Li-Ion Akkus Der mAT 10 ist ein äußerst kompakter Tuner mit einer internen Stromversorgung, die durch zwei eingebaute Li-Ion Akkus vom Typ 10440 sichergestellt wird. Somit ist der Tuner bestens...
MFJ 998
Automatiktuner 1500 W SSB/CW bei Anpassung von 12-1600 Ohm, Ausgang SO-239 PL, Hühnerleiter und Langdraht20.000 Speicherplätze, Antennenschalter, L-Netzwerk,160 bis 10 m, 4:1 Balun, Kreuzzeiger- und digitales SWR/Wattmeter, audio SWR...
MFJ 904
Sehr kompakter Tuner mit Kreuzzeiger SWR-Meter 30/300W, mit Bypass-Schalter, 80-10 m, max 150WAusgang PL-Buchse für koaxgespeiste Antennen und Langdraht. Abmessungen 185 x 57 x 70mm
MFJ 939Y
Vollautomatischer Antennentuner 1.8-30Mhz, 2-200 W CW/SSB für YAESUAusgang SO-239 Koax oder LangdrahtAnpassbereich 6-1600 Ohm (SWR 32:1)Audio SWR meter piept bei erreichen von SWR 3. Kompakte Abmessungen 165 x 73 x 213 mm, Gewicht 1,09...
LDG AT-200 PRO II
Antennentuner, 1,8-30 MHz, 200 W/54MHz 100W 2 Antennen