No results were found for the filter!
Icom OPC-2474
Icom OPC-2474 ICOM Antenna Tuner Control Cables (5m) provide power and control information between ICOM IC-705 and ICOM AH-705 Antenna-Tuner
Icom OPC-871A
Icom OPC-871AHeadsetadapter für IC-A120E
MFJ 5114Y
MFJ 5114YTuner Interface MFJ-925/927/928/929/939/998/ YAESU
LDG IC-PAC6
LDG IC-PAC6ICOM-Kabel für LDG-Tuner 182,88cm
RigExpert YS005
RigExpert YS005Kabel für TI8, 3000, 5000 Interface, Yaesu Trxzur Verwendung mit folgenden Yaesu Transceivern:FT-450, FT-450D, FT-991, FT-991A, FT-891
Yaesu CT-39
Packet Kabel mini-DIN 8pol>-> offenes Ende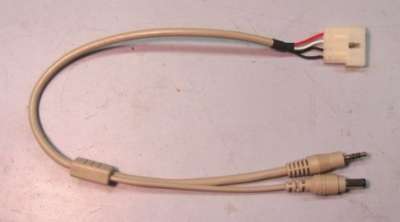 LDG IC-PAC
LDG IC-PACICOM-Kabel für LDG-Tuner 30,5 cm
Yaesu SCU-39
WIREX-X Verbindungskabel-Set für FT-2DEWIRES-X Verbindungskabel FT-2DE, FT-3DEDas FT-2DE kann dadurch als portable Digital Node Station arbeiten. Per USB angeschlossen, kann das FT-2DE auch als Access Point für drahtlose Kommunikation...
Yaesu SCU-35
Yaesu SCU-35 Programmierkabel FT-4XE/ FT-25 / FT-65