No results were found for the filter!
PodMic
Das PodMic ist ein dynamisches Mikrofon in Rundfunkqualität, das für unglaubliche Leistungen bei Podcasting, Livestreaming und anderen Sprach- oder Gesangsanwendungen optimiert ist. Das PodMic bietet einen satten, vollen Klang, einen...
Hytera SM10A1
Hytera SM10A1Tischmikrofon für Mobilgerät Serie MD7xx
BT01-Bluetooth Mikrofon
Das neue Anytone BT01 Bluetooth Mikrofon erlaubt es, sämtliche Funktionen des Mobilgerätes D578UV Fernbedient zu nutzen. Es besitzt ein sehr gut ablesbares 2,2" großes LC-Farbdisplay sowie einen Lautsprecher mit 1000mW...
RØDE NT-USB Mini Tischmikrofon für den PC
Für alle, die ein hochwertiges Mikrofon bei SDR oder Remote Betrieb am PC nutzen möchten. Das NT-USB Mini ist der Beweis dafür, dass die makellose Tonqualität von RØDEs erstklassigen Studiomikrofonen auch bei einem kompakten,...
Heil AD-1I
The Heil AD-1-IHT adapter cable allows you to use your favorite Heil IC headset with the Icom 705 transceiver. The AD-1-IHT has a 1/8" microphone jack, an inline push-to-talk switch, and terminates in a 2.5mm plug for the microphone...
Icom HM-243
ICOM HM-243 Lautsprechermikrofon für IC-705
Avair AV1KM-I
AV-1-KM-I Mobile Freisprechanlage mit ICOM RJ-45 Westernstecker. Diese Freisprecheinrichtung besteht aus einem Schwanenhals Mikrofon, einer PTT-Schaltereinheit und einem Kabel, das zum jeweiligen Funkgeräthersteller passt. Das lange und...
SSM-85D DTMF Mikrofon
YAESU SSM-85D DTMF Handmikrofon mit 4 frei Programmierbaren Tasten. Standardmäßig ist es beim FTM-300DE und beim FTM-6000E im Lieferumfang.
Heil Bluetooth Adapter
Dank des HEIL Bluetooth Adapters können Sie Ihr XLR Mikrofon ab jetzt Kabellos betreiben. Das Set besteht aus einem Sender mit poliger XLR Buchse und einem Empfänger mit 6,3mm Klinkenstecker. Außerdem ein Adapter, welcher den 6,3mm...
Yaesu M-90D
Tischmikrofon für HF-Transceiver Das M-90D verwendet ein dynamisches fein abgestimmtes Mikrofonelement, das von den tiefen bis zu den mittleren Frequenzgängen alles bietet, was für ein klare und präzises Sprachübertragung wünschenswert...
RØDE M1
Mit seiner robusten Bauweise und der leistungsfähigen Neodymkapsel überzeugt das RØDE M1 Dynamikmikrofon. Handhabungsgeräusche werden dank eines ausgeklügelten Designs fast komplett unterdrückt. Mit seinem warmen und zugleich erstaunlich...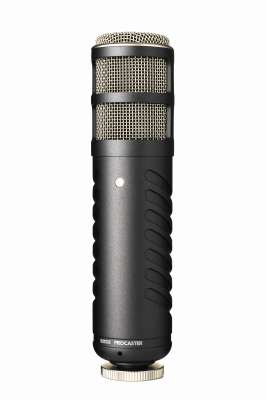 RØDE Procaster
Das RØDE Procaster ist ein professionelles Dynamikmikrofon für Broadcast-Anwendungen mit einer kompromisslosen Signalqualität für Sprechstimmen Mit seiner fokussierten Richtcharakteristik und einem für Sprechstimmen optimierten...